You may remember that I took part in the Amnesty International Write For Rights campaign at the end of last year.  Well, do these letters ever help achieve anything you may well ask?
Previous Write for Rights campaigns have helped achieve freedoms in the past and it would appear that they still do even in 2016.
I've taken the liberty of reproducing an email that I received this week from Amnesty International.  This email is in regards to one of the ten cases that I wrote letters for.
In this particular instance, I wrote a handwritten letter to both the Attorney General of Louisiana and also to Albert Woodfox himself to give him courage as he sat in solitary confinement.
I want to add that none of this makes me proud of myself.  I was one of many, many people who done the same as me.  In fact, almost countless people done more than me.  All I did was wrote two letters.  Other people were daily standing outside of the prison or negotiating with the authorities.
But it was a humbling feeling to think that my letter was perhaps like the straw that broke the camel's back.  The sheer weight of international public feeling may have just tipped the balance and helped those fighting on Albert Woodfox's behalf to successfully secure his release.
This letter writing was the least that I could do.  This man was imprisoned before I was even born.
Below is also a link to the BBC Website about it which was one of the top three read stories that day:
Dear Harry,
Today, Louisiana prisoner Albert Woodfox walked free, 44 years after he was first put into solitary confinement.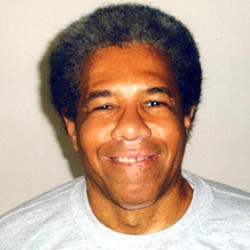 He was the United States' longest serving prisoner held in isolation. Nearly every day for more than half of his life, Albert Woodfox woke up in a cell the size of a parking space, surrounded by concrete and steel.
Tomorrow morning, for the first time in more than four decades, he will be able to walk outside and look up into the sky.
Over the course of nearly five years working on Albert Woodfox's case at Amnesty, I heard many times that the odds were insurmountable.
But I always knew that Albert Woodfox would go home.
I have seen the incredible power of our movement when we work together.
I have seen the courage humility, and determination of so many of you who have played big and small roles to help this historic human rights victory come to fruition.
I have seen the unbelievable strength of the Angola 3: Robert King, Herman Wallace, and Albert Woodfox himself—all three of whom endured nightmares but persevered with humor, dignity, and resolve to wage a relentless fight against the cruel, inhuman and degrading practice of prolonged solitary confinement in the United States.
With the knowledge of his release, Albert had this message for those who have helped him secure his freedom:
I want to thank my brother Michael for sticking with me all these years, and Robert King, who wrongly spent nearly 30 years in solitary. I could not have survived without their courageous support, along with the support of my dear friend Herman Wallace, who passed away in 2013. I also wish to thank the many members of the International Coalition to Free the Angola 3, Amnesty International, and the Roddick Foundation, all of whom supported me through this long struggle. Lastly, I thank William Sothern, Rob McDuff and my lawyers at Squire Patton Boggs and Sanford Heisler Kimpel for never giving up. Although I was looking forward to proving my innocence at a new trial, concerns about my health and my age have caused me to resolve this case now and obtain my release with this no-contest plea to lesser charges. I hope the events of today will bring closure to many.
I'm carrying those words with me today as we celebrate this victory.
Today Albert Woodfox walks free—February 19, 2016, his 69th Birthday.
BBC link – Albert Woodfox freed after 43 years in US solitary prison